There's some brainf*cked bastard out there in Honduras who thinks that letting a dog die under the eyes of museum audience is arts.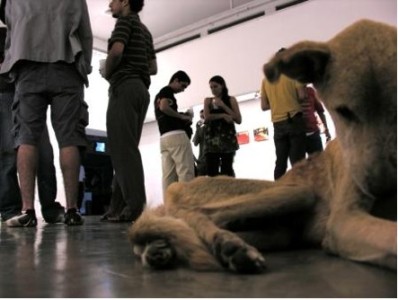 In 2007 Guillermo Vargas Habacuc tied a dog he caught in the street to a wall in a museum where it starved to death under the eyes of visitors of that exhibition.
Now that piece of cruelty is to be repeated.
But:
There's a petition going on to stop that.
I know, it's only one dog. There's so much cruelty everywhere and so on. There are children weeping and ricebags falling over everywhere. The thing is: Showing that the people generally
do
care. And don't approve to it.
I wondered if one should start a petiton for an instalation called "Cheap Justice", displaying that artsist knocked out. I'd suggest to sell it for sale for 5 cents. It's about what arts like that is worth. Or that rat's arse of an artist.